Vorobyovy Gory.
Vorobyovy Gory (In 1924-91 this plase was called Lenin Hills), is the indigenous high right bank of the Moskva River, opposite the Luzhniki bend, in south-west of the city, one of the "seven hills" of Moscow. It starts from the estuary of Setun River and lasts up to Andreevsky Bridge of the District Railway, including a part of the territory of Gorky Park. The height of the hill is up to 220 m above the river's edge.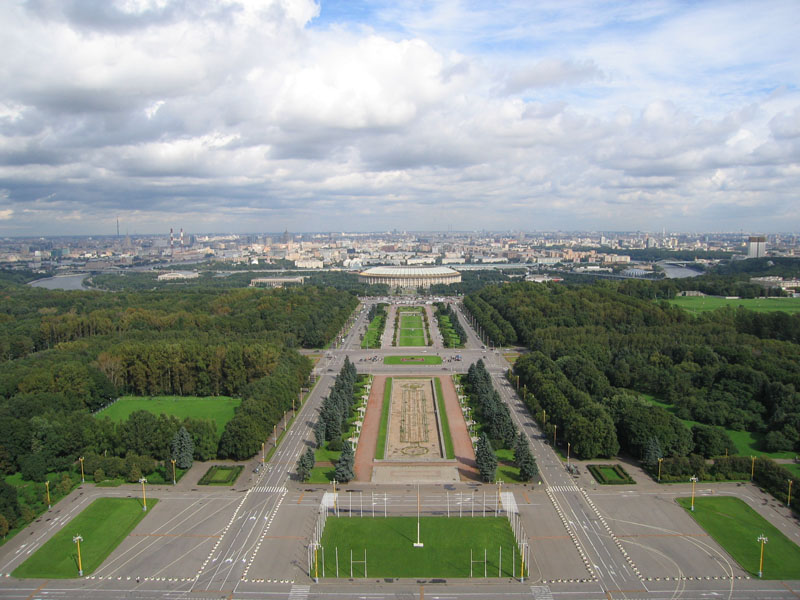 Green slopes of the Vorobyovy Gory and embankments of Moskva River (constructed in 1958-61) are a summer resort of Muscovites. In the beautiful park there are 3 decorative ponds and an array of natural broadleaf forest. In the XVI century in Vorobievj village there was a manor with a stone church, in 1680 there was a country wooden palace of the tsar of Moscow.
In the XVII century St. Andrew's monastery was founded at the foot of the eastern part of hill. After the war of 1812 there was a plan of improvement of Vorobyovy Gory. There were constructed several glass and brick factories. In 1817, in the place of the royal palace was built the first temple of Christ the Saviour as the monument to victory in the war of 1812 (architect A.L. Vitberg). In 1827 a young A.I. Herzen and N.P. Ogarev vowed there to dedicate their life to the struggle against autocracy (in 1978 a memorial was built in this place). In 1949-53 there was constructed a new complex of MSU with a central high-rise building, and an observation deck overlooking the magnificent panorama of the city was set up.
In 1953 a ski jump was opened there.
Also there are the building of the Bureau and several institutes of the Russian Academy of Sciences.